The creation of the joint company of Avtodor and RDIF
Rising state and private financing
Memorandum of cooperation MC «DTI» and RDIF
October 14, 2015 between the MC «DTI» and RDIF signed a cooperation agreement providing for RDIF participate as an investor in long-term projects.
MC «DTI» found the perspective investment projects for execution with RDIF.


Memorandum of cooperation Avtodor and RDIF
Sets out the basic principles of joint execution of infrastructure investment projects of Avtodor and RDIF. A joint company of RDIF and Avtodor (LLC «ROAD INVESTMENT COMPANY») was created with the participation of the MC «DTI». LLC «RIC» executes long-term operation agreement on complex development of M-4 «Don» highway, Section 4: km 1091 – km 1319.
RDIF and Avtodor has started executing a project within the signed with the participation of the MC «DTI» agreement:
«Сomplex development, reconstruction, road maintenance, repair, heavy repair and toll operation of M-4 "Don" federal highway from Moscow through Voronezh, Rostov-on-Don, Krasnodar to Novorossiysk, section km 1091.6 – km 1319 (Section 4), including reconstruction of section km 1091.6 – km 1119.5 (2nd stage of construction) and complex development of section km 1119.5 – km 1319 (Rostov region and Krasnodar region)»
Financial parameters
State financing –
3,8
bn. rub.
Private investments –
3,2
bn. rub.
Role of MC "DTI" as a project developer:

Analysis of technical and technological solutions and development of recommendations for optimal technologies of intelligent transport systems (including tolling system
determining potential contractor of ITS equipment and software;
requesting technical and technological solutions for ITS;
analysis of proposed technical solutions and development of recommendations on application of optimal technologies.

Provision of technical customer services in accordance with FIDIC requirements:
optimization of project documentation;
searching and attracting contractors for performing works of integrated development complex development and operation;
support in signing agreements with attracted contractors;
check quality and volume of contractor's works;
support and advise the parties to the Long-term operation agreement.

Provision of complex support:
complete set of back office services;
monitor the target use of funds;
long-term debt capital raising (financial close);
valuation of LLC RIC;
support in signing sponsor support agreements.
Technical and financial monitoring
"Infrastructure investments-2" LLC, "MC DTI" LLC, "Nord Gidro – Bely Porog" LLC and "Nord Hydro" JSC has provided a complete set of services on technical and financial monitoring of the project within the signed agreement: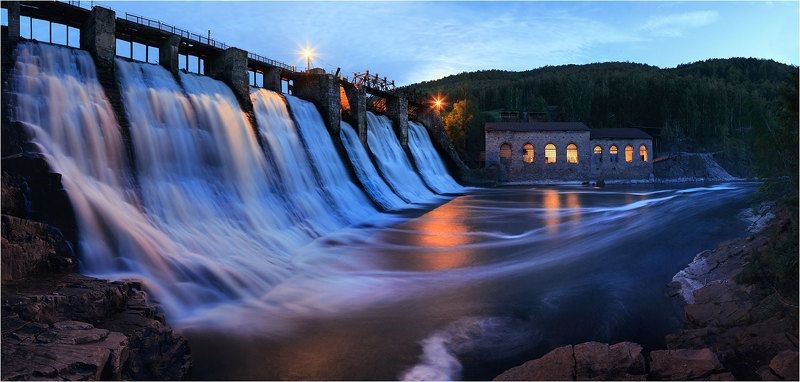 Construction of small hydro "Beloporozhskaya HPP-1", "Beloporozhskaya HPP-2" and electric grid facilities for connection of small hydro "Beloporozhskaya HPP-1" and "Beloporozhskaya HPP-2" to the grids of FGC UES
Financial and technical parameters
Construction cost -
8 179
million rub.
Objects of construction:
Small HPP-1 of capacity 24,9 MW
Small HPP-2 of capacity 24,9 MW
Open switchgear for 220 kV